Booster Packs
The Booster Packs allow you to get a complete deck thanks to its assortment of varied cards, among which even legendary cards can appear. They are the best way to start playing Rada Quest or to improve an existing deck.
Honor & Glory Booster Pack
Content: 10 cards
Max Issue: 50,000
Rarity:

Legendary: 1%
Ultra Rare: 8%
Rare: 20%
Common: 71%

How to get:
As game event rewards.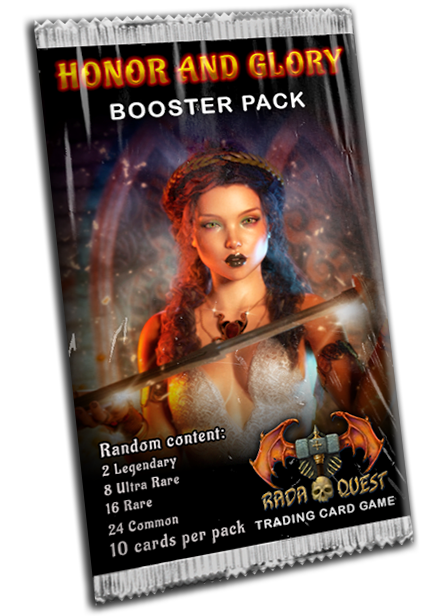 tip
Booster Packs are free; they are delivered as a reward for participation in events
They contain 10 cards
They can contain legendary cards
It is possible to receive Booster Packs as a reward in some game events:
Gems Minigame: 1 Booster Pack if player reach rank Gold in weekly tournament.
Daily Quests: 1 Booster Pack if player complete half month of daily quests.
[more to come...]
tip
All Packs are tradeables as NFTs in WAX secondary markets. From time to time you can find good offers to expand or improve your collection.
How to open Base Packs​