The Ultimate Guide to the Referral System in Rada Quest: Earn While You Play!
Rada Quest is more than just a game; it's a competitive experience that becomes even more exciting when played with friends. As passionate players, we know there's nothing better than sharing this experience with others. That's why we want to reward our players for helping to expand the Rada Quest community.
Our referral system allows all users, whether they are active players or not, to earn a portion of the Soul Crystals that their referrals spend in the game store. That's right, you can earn Soul Crystals simply by inviting your friends to join the fun!
What is Rada Quest?​
Rada Quest is a collectible card game based on blockchain technology. Players can collect, trade, and battle with their cards in a world full of magic and adventure. The cards in Rada Quest are NFTs (Non-Fungible Tokens), which means each card is unique and completely belongs to its owner.
How does the Rada Quest referral system work?​
To start enjoying the benefits of our referral system, all you need is a Rada Quest account and to share your affiliate link. This link can be found in the game's settings section.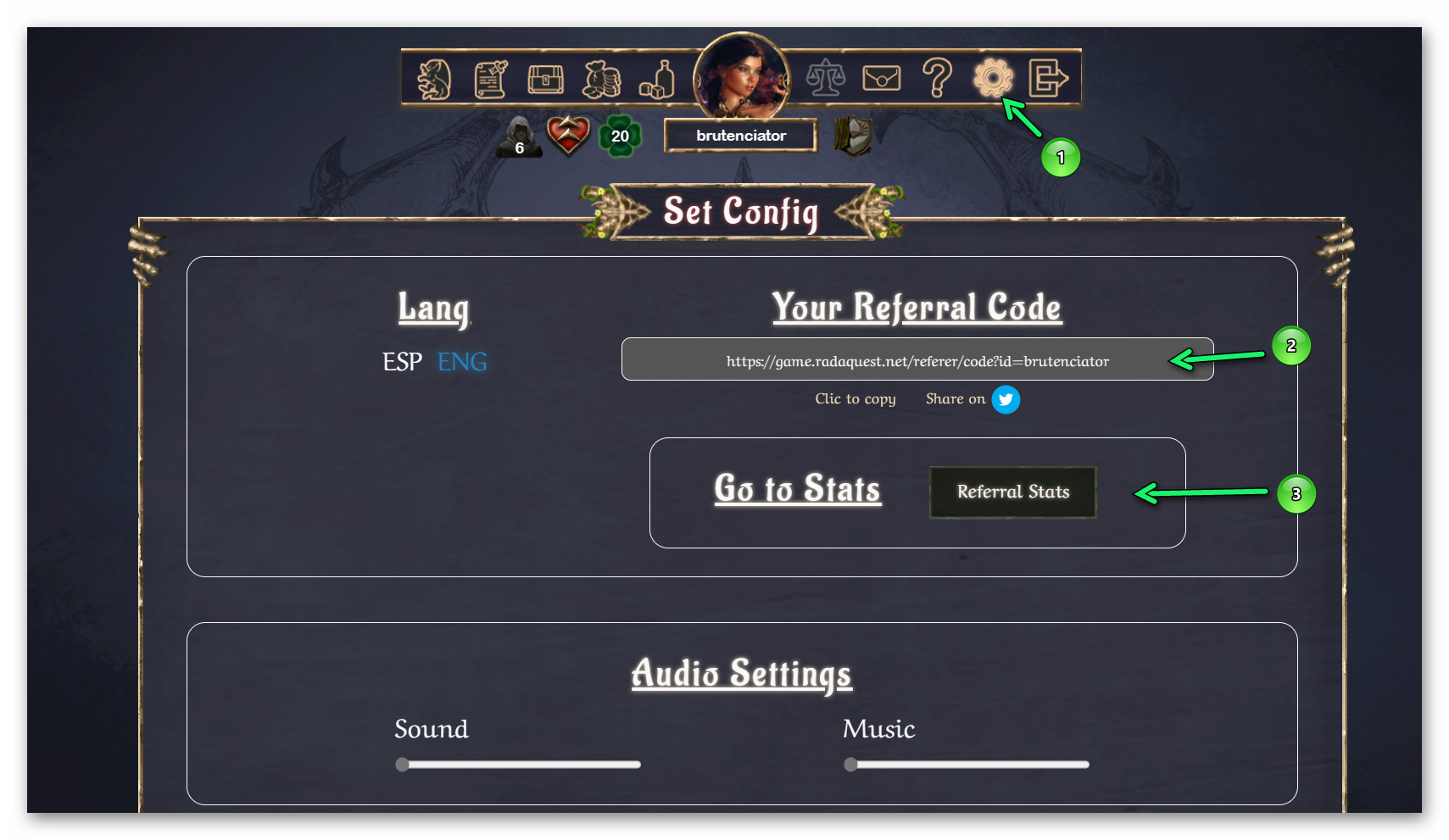 We suggest sharing your affiliate link on your social media and other communication channels, such as Discord, Telegram, etc. Remember to post your referral link from time to time, but always respect the rules of each platform to avoid being penalized for spam.
Each time someone joins the game using your referral link, you become their referrer for life... unless they use another player's link.
Our system uses a tracking cookie for activation. Once the referral is activated, the cookie is no longer necessary.
How much can you earn with the Rada Quest referral system?​
With our referral system, you can earn 4% of each payment your referrals make that is over 100 Soul Crystals. But that's not all. Both you and your referral can earn 40 medals to open the Medal Chest in the Coliseum with the first purchase your referrals make over 100 Soul Crystals.
Important
To receive commissions, the payment must be over 100 Soul Crystals.
The welcome gift is only given once per user. If a user has already received it once, they will not receive it again even if they change referrals (and neither will their new referrer).
Payments will always be made in the game token, Soul Crystal.
Note
The gift for the first purchase may change in the future for a different gift of the same value. Stay tuned to our social media to find out about any changes.
Referral statistics​
In the game's settings section, you can also access the statistics section. From there, you can track the rewards you are receiving, including the dates, amounts, and users who produce them.
The value of Soul Crystals​
Soul Crystals are not just a currency in the game; they are blockchain tokens that you can trade with other players in the external WAX markets. You can use them to buy cards and other items in the game, either in the game's Guilds store or in game events, or even trade them for other tokens.
Conclusion​
We hope you find our referral system interesting and that you can enjoy many rewards. Remember, in Rada Quest, you don't just play, you can also earn. So, what are you waiting for? Start inviting your friends and earning Soul Crystals today!