Daily Quests
Rewards for Daily Login​
The game counts with a daily reset system which will allow, among other things:
The reading of players' Inventory in search of NFTs or special tokens that serve as game modifiers, such as Game-Art NFTs which increase Luck points, or temporary action boosters.
The delivering of daily rewards for players who log in: this system will follow a calendar with different gifts.
The start or ending of certain events or game tournaments.
Daily rotation of rewards for logging in (7-days cycle):
Day 1: 10 Potions of Strength and 25 Soul Crystals
Day 2: 10 Potions of Defense and 25 Soul Crystals
Day 3: 10 Potions of Skill and 25 Soul Crystals
Day 4: 10 Potions of Experience and 25 Soul Crystals
Day 5: 10 Potions of Loot and 25 Soul Crystals
Day 6: 10 Credits for minigames and 25 Soul Crystals
Day 7: 50 Soul Crystals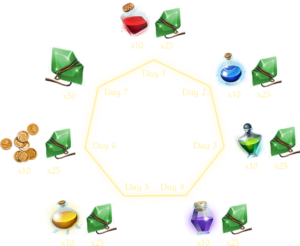 Reward modifiers (Conditioned)​
VIP players (if you have +1000 TARUK in wallet):
Soul Crystal x2
Luck x2 (max. 20 points)*
If you have the "Today's special card" in wallet**:
Luck x2 (max. 20 points)*
Daily Potion x10 xToday's special card's stock***
note
*if the two conditions are met, the multiplier will be x4. Max. 20 points.
**A model from the "cute" Game Art collection created by GrisVisa will be selected everyday as Today's special card following a 28 natural days cycle independent of the player's login.
***Max. 200 potion units. No multiplier for Soul Crystal reward
Requirements for Daily Login Rewards​
You must have a game account and login to the game at least once every 24 hours.
You must have at last 1 NFT in your inventory from Game Art collection or 1,000 Soul Crystals in your in-game wallet at the moment of daily snapshot.
NFT NOT VALID FOR DAILY REWARD
This free promotional NFT is excluded from the daily snapshot and is not valid for the daily reward: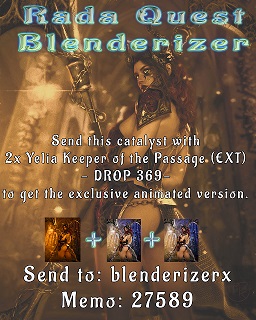 Template: Yelia EXT Catalist