The Tavern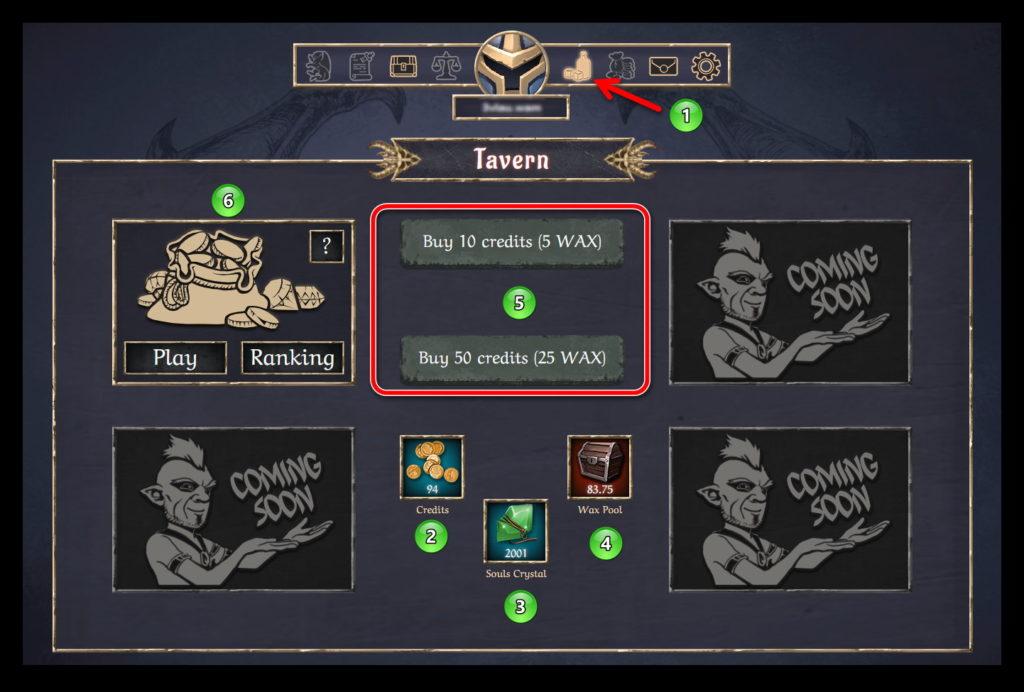 Every warrior needs a rest between battles. Welcome to the Tavern. Here you can spend some time trying your luck with our mini-games.
The aim of playing these games is to accumulate more resources to boost your skills and to enhance the cards in your deck.
To enter the Tavern, click on the main menu (point 1).
Credits (CR) are a fungible token used to pay for mini-games. You need to have Credits in your wallet to be able to participate in the mini-games (Point 2).
You can get credits:
Buying in the Tavern in exchange for WAX (Point 5).
Thanks to the daily login rewards.
On external marketplaces such as Alcor
In the Tavern window, you can see your available balance for Credits (CR) (Point 2) and Soul Crystals (SC) (Point 3).
In Point 4 you can see the amount of WAX accumulated for the prizes of the mini-game tournaments.
Approximately 50% of the revenue from the purchase of credits is accumulated in the jackpot.
Only WAX from in-game sales will be added to the pot. Sales on external markets such as Alcor do not count.
This pot will be distributed among the active games and, for each game, will be distributed among the winners as follows:
1st player: 50%
2nd player: 30%
3rd player: 20%.
Up to 4 mini-games may be active in the Tavern (Point 6).
Each game card includes buttons to access the game, the current standings or the help page.
To access the game, you will be asked to pay the price in Credits (CR).
Gems (More info)
coming soon
coming soon
coming soon