Starter Mega Packs
You, Questers, have been asking for it and we have listened:
Introducing the Mega Starter Pack for new adventurers to Rada Quest!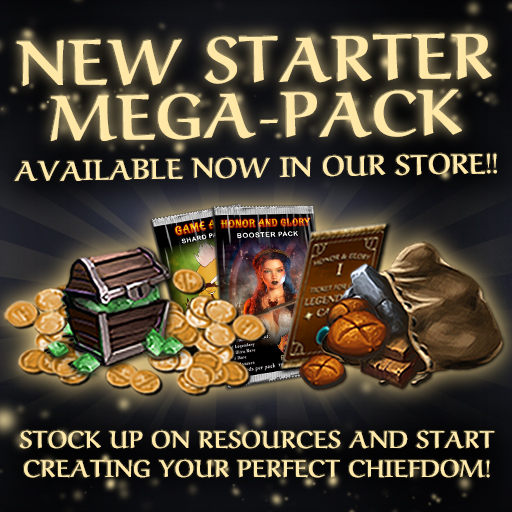 This pack contains everything you need to start your experience in our strategy and collectible card game.
x1 Game Art Shards Pack: Contains 10 Game Art Edition card shards. Combine them to get a complete Game Art card and enjoy the advantages offered by this special and limited edition of NFTs.
x2 Booster Packs: Contains 10 game cards each. With these cards you can start setting up your game deck and prepare for the upcoming events.
1,500,000 Food, Stone and Wood Units: All the necessary material so you can boost your buildings up to level 11 (Max lvl 15) and start your adventures with this small advantage.
5,000 Soul Crystal: The main token of the game. With this amount you can pay the cost to upgrade your buildings from level 10 to 11 and still have enough left over to qualify for the daily login rewards. Don't waste it!
25 Credits: You will be able to participate in the weekly Gems mini-game tournaments and qualify for more prizes to upgrade your cards.
x1 ticket for a legendary card: And finally, you can guarantee yourself a legendary level playing card. These are the most wanted cards because of their scarcity and power.
Notes:
The pack price is $50 in WAX tokens.
The sale of Starter Mega-Pack is personal and non-transferable. The player will receive the contents of the Mega-Pack directly at the time of purchase. There is no NFT associated with this promotion (Some items contained in the Mega-Pack are tradable once claimed).
Only 2 Mega Packs will be available per account.
The sale will be launched on October 24, 2022. There is no set sale deadline date.
We reserve the right to set an end date for the sale of these packs as well as to modify their content, always with items of similar category. These changes will be announced on our social networks.