Rewards for Stake Game Art
Rada Quest has a limited edition of NFTs to commemorate some of our most remarkable artwork. We asked GrisVisa, an excellent Mexican artist, to select the characters that she liked the most and to make a version according to her style. The result has been a nice collection of 28 models in a "cute" v
In addition to being able to receive rewards in the form of daily airdrops or for logging into the game, these NFTs accumulate luck points that will help players get better results during games.ersion of our characters.
This collection is distributed through limited edition "Game Art Shard Pack" packs. The packs contain fragments of the images that must be combined 3 by 3 to be eligible for one of the art models; the normal or the "cute". The selection of one or another model is random.
The 28 "cute" models have an edition of 500 units each model.
The max supply of the normal versions ranges between 300 and 500 units.
The game counts with a daily reset system which will allow, among other things:
The reading of players' Inventory in search of NFTs or special tokens that serve as game modifiers, such as Game-Art NFTs which increase Luck points, or temporary action boosters.

The delivering of daily rewards for players who log in: this system will follow a calendar with different gifts.

The start or ending of certain events or game tournaments.
Daily rewards for reset and login*
Daily rotation of rewards for logging in (7-days cycle):
Day 1: 10 Potions of Strength and 25 Soul Crystals

Day 2: 10 Potions of Defense and 25 Soul Crystals

Day 3: 10 Potions of Skill and 25 Soul Crystals

Day 4: 10 Potions of Experience and 25 Soul Crystals

Day 5: 10 Potions of Loot and 25 Soul Crystals

Day 6: 10 Credits for minigames and 25 Soul Crystals

Day 7: 50 Soul Crystals
Reward modifiers (Conditioned)
VIP players (if you have +1000 TARUK in wallet):

Soul Crystal x2

Luck x2 (max. 20 points)*
If you have the "Today's special card" in wallet**:

Luck x2 (max. 20 points)*

Daily Potion x10 xToday's special card's stock***
* Stacking; if the two conditions are met, the multiplier will be x4.
**A model from the "cute" Game Art collection created by GrisVisa will be selected everyday as Today's special card. 28 Natural days cycle independent of the player's login.
***Max. 200 units
*Due to the continuous abuse by multi-account holders who were exploiting the daily login for the sole purpose of dumping rewards on the market at a low price, we have been forced to set minimum conditions so that only active and legitimate players can benefit from these rewards. From 1 September 2022, it will be necessary to own at least 1 NFT from the Game Art series or have at least 1000 Soul Crystal in the in-game wallet. This will be checked during the daily snapshot.
Daily Airdrops by Game Art collection
Everyday a snapshot will be taken on Game Art NFTs to calculate the luck multiplier and total rewards for collecting Rada Game Art NFTs.
Everyday 70000 Soul Crystals will be added to the rewards jackpot.
15% of the Soul Crystals collected in-game will be added to the rewards jackpot.
NOTE: The distribution will take place among the 14000 NFTs from the "GrisVisa" collection.
Calculation of the player's Luck multiplier.

luck_per_NFT = 0.200 + ((max_supply – (template_mint – 1)) / 1000)

Calculation of rewards per stake of the "cute" Game Art edition (illustrations by GrisVisa)

1/14000 Soul Crystals from the total of the rewards jackpot per each NFT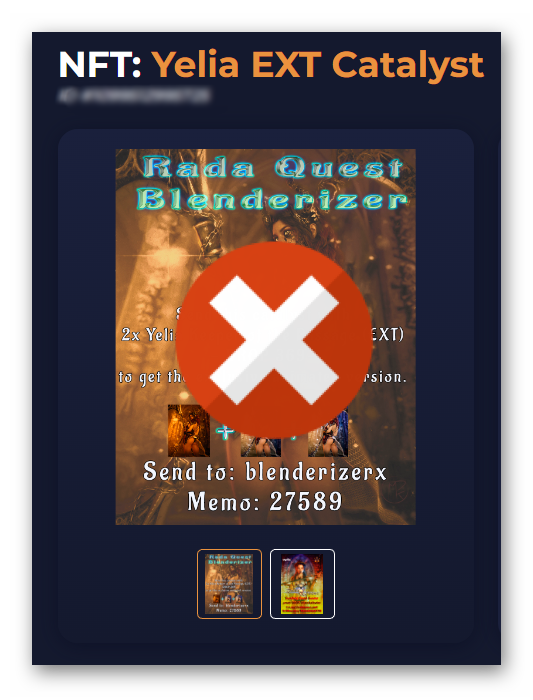 This card is excluded from the Game Art reward event. It does not include luck value in its data.
Template: #27590
This card was given away for free in a campaign at the end of 2020 to promote the Blenderizer smart contract. Unfortunately some users abused by collecting the drop with the intention of putting them on sale.
This NFT is currently worthless.
DO NOT BUY IT.